Riu Puerto Vallarta

Riu Jalisco
Riu Puerto Vallarta has three different hotels situated a few buildings apart on a very nice stretch of beach. The road leading to these hotels and private condos are guarded so only people who are supposed to be there get in.
You don't get bothered here by locals selling stuff on the beach like in some other areas. They quietly walk by you and if you're interested, you can talk to them. It's quite a refreshing change from other areas of beach we have been to. The sand looks as though it has gold flecks in it as the tide washes in.
When you stay at the Riu Jalisco Puerto Vallarta, you will feel very welcomed from the moment you arrive. The receptionists speak English. You will receive a welcome drink and get a great hotel map with all the daily activities on the reverse side.The gift shop was reasonably priced as well.
Mini bars are stocked with water, pop, beer, and four bottles of alcohol to mix drinks with are found in every room.
Don't forget to tip your mini bar employee and they will give you extra of whatever you need.
The entertainment staff at the Riu Puerto Vallarta are amazing and they put on lively shows every night and work all day keeping you busy and entertained. There is everything to do right at your resort.
They also have Riu Land for the little kids and plenty of things to do for the teens as well.
Every day you will find wonderful animals made out of towels and blankets in your room. For example, the photo below is a Riu Jalisco Towel Monkey. It was a nice surprise.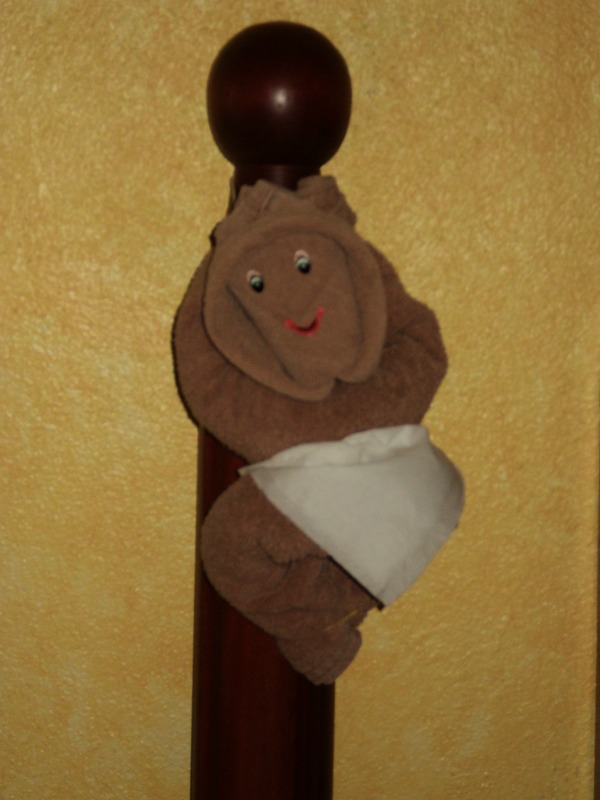 I definitely would recommend this chain of resorts. Riu Puerto Vallarta gets my two thumbs up. Riu Jalisco is the perfect fit for family vacations to Puerto Vallarta.
Return to All Inclusive Puerto Vallarta

Return from Riu Puerto Vallarta to Puerto Vallarta Home