Puerto Vallarta Tours




Thinking about trying one of the many Puerto Vallarta tours?

These tours are a great way to see remote places that you would not get to see otherwise. There are tours for people of all ages including the very popular eco-adventures. And, just to ease your minds, these tour companies/guides, will go out of their way to ensure your safety.
If you love nature and would like to explore the rainforest, Canopy Adventure Park may be the right tour for you. This park also features a thrilling double security zip line for those who enjoy the occasional adrenaline rush.
There is also an extreme outdoor adventure tour group named Vallarta Adventures that starts you off in a speed boat taking you to a tropical paradise. They offer various packages including: riding mules, rappelling down waterfalls, zip line tours, horseback riding tours, learning about the ecological habitat, and instruction on wilderness techniques.
Tip - Before you book any tour, make sure to check for age, height or weight restrictions.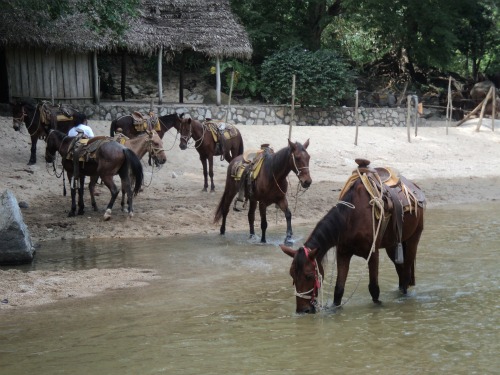 There are also several other adventure tours Puerto Vallarta has to offer. Would you like to experience a 16th century village high up in the Sierra Madre Mountains? Here you can learn all about Mexican culture and history, stop at a traditional casa for handmade tortillas and purchase some beautiful clothing and jewelry. Simply locate the nearest visitors center to find out more information on the tour groups that offer these type of packages.
Tourist attractions in Mexico can also be air adventures. The flight tours go to many destinations like Guadalajara, Tepic, and Cuixmala. Most of these range from 2 hour to half day round trips.
Choosing which Puerto Vallarta tours to take can be a tough decision because they are all so much fun. Whatever your choice, just remember to always have small amounts of pesos on hand to tip your tour guides.
Related Pages

Puerto Vallarta Whale Watching
Return from Puerto Vallarta Tours to Puerto Vallarta Home