Street Food & Taco Stands

Puerto Vallarta
Street food and taco stand vendors are one thing you will want to see in Puerto Vallarta, Mexico. It is the Mexican version of fast and delicious food. If you are looking for authentic food at a very reasonable price you will probably want to check out one of the many taco stands.
Things to consider before you decide to eat at one.
Are they busy?
Busy street food vendors are a good indication that this is a safe place to eat.
What about hygiene?
That is a great question and something to seriously look into before you order. If there is only one employee and no running water then they can not wash their hands after handling money or food.
Do they use hand sanitizer to get through the day?
I sure hope so. 
As far as I am aware there are no regulations in Puerto Vallarta for this. This does not mean that there are no great clean taco stands though. It just means take a good look around before ordering. There are plenty of stands to choose from.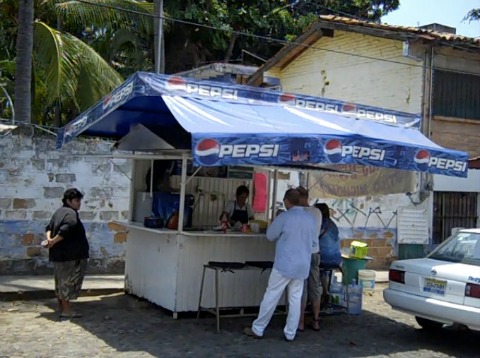 Now that you have found the perfect street food vendor of your choice it is time to order. You can get anything you want in your taco - fish, meat, anything. If they have it, you can have them put it in it. This is very unlike North American mexican food. This is the real authentic stuff,  fresh and tasty.
My favorite part is the salsa's, just thinking about them makes me crave them. There is nothing that even comes close to these salsas in the grocery stores.
Most stands offer a variety from green to red and mild to extra spicy. So if your not a big fan of the canned stuff try a bit of fresh salsa.  You just may fall in love with it like I did!

If you see a sign saying "Tacos de Cabeza" this translates to Tacos of Head. If you are up for some adventurous eating, then you can choose what cow parts you would like in your taco. Depending on the day, they could have tongue, lips, eyes, brains or cheek. 
A lot of taco stands come and go. The good ones stay as they are busy with locals, expats and tourists. I do hope you find the best taco stand and enjoy a delicious cheap meal. Remember to come back here and tell the rest of us about it.
Return to Puerto Vallarta Restaurants

Return from Street Food to Puerto Vallarta Home