Transfers in Puerto Vallarta

Taxi System
Here we will discuss the different types of transfers in Puerto Vallarta. It will help you in your travel around this beautiful Mexican city.
Airport Taxi :
These special Federal licensed taxis are only allowed to drive from the airport to your resort, hotel or condo. When you tell the driver where you are going they will have a specific fee for the zone you are going to. If you have more than four passengers the fee doubles. This is the total payment to your destination, make sure you ask what currency.
As your taxi leaves the airport, the driver will pull off to stop at a kiosk. This is where you pay the amount that was agreed upon. You have now paid in full. There is no need to tip the driver. They do not expect to be tipped but if you would like to, they will accept tips.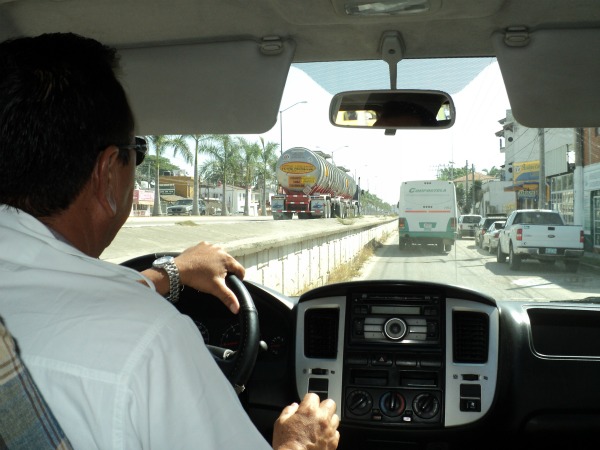 Puerto Vallarta Taxi:

Yes, they are cheaper than the Federally licensed ones. Most hotels and resorts have bellman who will tell you what the taxi will cost before you get in. Once again if you have more than four people the price doubles. They will tell you the total price for the amount of people. Even at the local market in Bucerias they have a man standing there who will get you a taxi cab.

Try thinking of the price already including a tip. The local custom is not to tip. Many visitors do not know this and tip. Therefore the locals have a hard time getting a taxi when they may need one. This is why you need to understand transfer etiquette in Puerto Vallarta.

You can also book a private company to pick you up at the airport. You will need to book in advance and pay online before you leave. Private companys will also do tours and whole day deals with you but as always find out how much and in what currency before you agree to the rate.

Transfers in Puerto Vallarta by zones chart is below:

ZONE 1 - MARINA VALLARTA
Condos like Bay View Grande, Portofino, Flamingos Vallarta and so on,
Casa Velas
Marina del Rey
Marina Golf
Marriott
Melia
Mayan Palace
Velas Vallarta
Villas Pacifico
Westin Regina

ZONE 1 - HOTEL ZONE / DOWNTOWN
Buenaventura
Buganvilias
Canto del Sol
Crown Paradise
Encino
Fiesta Americana
Friendly
Grand Venetian Condos
Golden Crown Paradise
Holiday Inn
Hotel Rosita
Los Tules
Krystal Vallarta
Pescador
Plaza Iguana
Plaza Pelicanos
Villa Premiere
Puerto de Luna
Royal Holiday Club
Rio
Sheraton
Suites La Siesta
Sunset Plaza
Villa del Palmar

ZONE 2 - ROMANTIC ZONE
Conchas Chinas
Costa Sur
Costa Vida
Dreams
Lindo Mar
Los Arcos Hotel
Mercurio
Meza del Mar
Playa Los Arcos
San Marino
San Marino
Tropicana
Vallarta Sun Suites
Playa del Sol
Posada de Roger
The Abbey
Villa Vista

ZONE 2 - NUEVO VALLARTA

Costa Vallarta
Dreams Villa Magna Grand Velas
Marina Fiesta
Marival
Mayan Palace
Mayan Sea Garden Occidental Grand
Occidental Allegro
Paradise Village
Solare
Sierra Nuevo
Villa Varadero

ZONE 3 - NUEVO VALLARTA
Playa del Sol Grand
Royal Decameron
Riu Jalisco
Samba
Villa del Palmar Flamingos
Condo Las Penas
Gemelas
Girasol Sur
Barcelo La Jolla Mismaloya Playa Esmeralda
Playa Fiesta
Presidente Intercontinental
Zone 4 - Punta Mita
Hacendia De Mita
Four Seasons
Porta Fortuna
Palladium
Casa de Mita 
Anything else outside of town is included in Zone 4
I hope this page helps you understand Transfers in Puerto Vallarta and Puerto Vallarta Taxi rates better.
Return to Puerto Vallarta Airport

Return from Transfers in Puerto Vallarta to Puerto Vallarta Home