The Puerto Vallarta Taco Lady

This is the Puerto Vallarta Taco Lady's story kindly written by Juan Alvarado. Many thanks for bringing this heartwarming story to my attention.
I hope everybody will be able to find a way to help, even if this is only sharing with your friends on Facebook, Twitter, Pinterest or other social media outlets.
We've been coming to Puerto Vallarta for years now enjoying it's beach, weather, warm smiles, and great food. One of the things I enjoy most is the diversity of foods, everything from Asian, Italian, Spanish tapas, to the Mexican taco trucks on the streets. Oh yes, those meals on wheels that the average tourist avoids fearing Montezuma's Revenge, but for so many locals it is a staple part of their diet. Having said that and considering I love to travel like a local, I make it a point to dabble in the "dangerous". One hot afternoon after a work out at Acqua Gym I stumble upon this taco stand on Constitución and Basilio Badillo whose aroma is calling my name. Almost immediately I'm drawn to the lady sweating behind the grill by her friendly smile and her intoxicating spirit. It was soon apparent that this would become a usual stop for me. Her Carnitas were the best I'd had in town.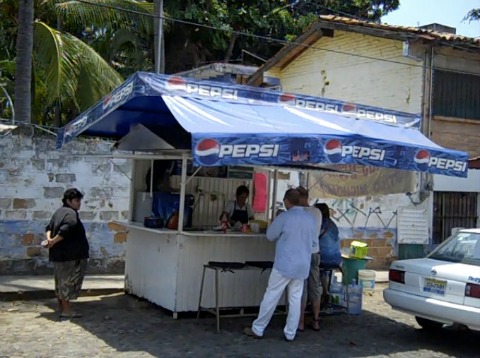 My visits became more personal as I got to know The Puerto Vallarta Taco Lady, whose real name is Guadalupe Manriquez,  and I couldn't help but want to know more about her and her story. I soon discovered that she rented the taco stand because she was the main bread earner for her family due to a recent car accident that left her husband temporarily paralyzed and unable to work. At the time they were living in the mountains, quite a drive away, and she had to ride a bus an hour each way carrying her food to the stand each morning. Her work schedule was 7am to about 7pm each day and since she worked the stand alone most of the time, she couldn't even leave to use the restroom. Her story intrigued me so much, that I needed to know more, and more importantly how I could help her.

I came to know that she only profited about 200 pesos a day ($15.00) after working all day long, so I was more interested in enabling the Puerto Vallarta Taco Lady to make more money. I knew her short term goal was to own her own taco stand and one day a restaurant. She figured she could buy a stand with around $4,000 dollars which would alleviate the high rent cost , a difficult feat on her own, but I figured an easy feat with the help of caring people. With out her knowledge I started her a Facebook page entitled "Puerto Vallarta Taco Lady" and uploaded some You tube videos I made about her story. Words can not express the emotion felt when we met with her on my first visit back to notify her that we had raised almost $2,000 dollars for her in a couple of months and donations were still coming in. This footage can be seen on her Facebook page and still makes me cry today. Sadly enough though, her situation was worsening. She had recently been hospitalized due to a kidney infection brought on by her not using the restroom during the day. Even though she worked in the extreme heat, she avoided drinking water while she worked to reduce the need to urinate since she could not leave her stand and the closest restroom was 2 blocks away.

In light of the new information, I felt the urgency to reach the needed goal as soon as possible, but I couldn't help but think that maybe we should consider some other business ventures for her that would render a more sizable profit with less strain on her body. By our next visit, about a year after our we started, we had reached around $4,000 dollars and we started the process of trying to purchase her taco stand. The owner of the taco stand, who happens to own several stands including the famous "Tacos de Perro" stand in the Centro, decided he wanted $100,000 pesos or around $8,000 dollars at the time. This bad news turned out to be a blessing in disguise. When the Puerto Vallarta Taco Lady couldn't pay that amount he kicked her out of the stand for some reason and we changed gears. She decided to start selling women's accessories, so she started buying merchandise from Mexico City and I would bring down merchandise from the U.S. when we visited. Now she could make in profit off of one item, what it would take her all day to make selling tacos, not to mention a fraction of the work. She now sells women's accessories to friends and as funny as it sounds, exotic dancers called "teiboleras" at the clubs. She tells me they are the best payers! They have plenty of cash and pay up front!

Her husband continues to require multiple surgeries which puts a strain on their finances. He is due for a major surgery coming up to remove the prosthetic hip he was given that has not been successful. Honestly, I don't know how they make it financially considering she is still raising a young son who she is trying to educate to break the cycle. I wish I could do more. I just hope that this new business is just the first step towards something bigger for her and that she can manage to put some money aside to expand her business and maybe open up a locale.

What I've learned from this experience is that we all hold the power to make a difference in someones life. The question is will we use it? Some of us can give financially, some can give their time. One must ask himself, what can I do, or will you simply walk away saying "how sad"?

The latest update is the video below. All photos and videos on this page are credited to Juan Alvarado.
If you are interested in helping you can go to her Facebook page "Puerto Vallarta Taco Lady" and share it with your friends. Donations can be made at the Casa JoJo Foundation at http://casajojofoundation.org 
Make sure you note this donation is for The Puerto Vallarta Taco Lady.
Related Content

Return to Puerto Vallarta Charities

Return from Puerto Vallarta Taco Lady to Puerto Vallarta Home